2021 Duster




TechRoad 1.5 dCi 4X2

From R 326,900

or R 3,999pm*

Low Deposit & Low Installment

Features:

• Driver and Passenger Airbag
• Electronic Stability Control
• Hill Start Assist
• Red Stripe on Side Mirror
• TechRoad Side Decals
• 17″ Alloy Wheels
• Seats with Red Detailing
• Interior with Red Detailing

2021 Duster




TechRoad 1.5 dCi EDC

From R 360,900

or R 4,399pm*

Low Deposit & Low Installment

Features:

• Same as Dynamique 1.5dCi EDC
• Red Stripe on Side Mirror
• TechRoad Side Decals
• 17″ Alloy Wheels
• Seats with Red Detailing
• Interior with Red Detailing

2021 Duster




Dynamique 1.5dCi 4×4

From R 360,900

or R 4,399pm*

Low Deposit & Low Installment

Features:

• Same as Dynamique 1.5dCi 4×2
• 4×4 Transmission
• 4×4 Information
• Hill Descent Control

2021 Duster




Prestige 1.5dCi EDC

From R 371,800

or R 4,499pm*

Low Deposit & Low Installment

Features:

• Same as Dynamique 1.5dCi EDC 4×2
• Chrome Door Mirrors
• 17″ Alloy Wheels
• Drawer Under Passenger Seat
• Blind Spot Warning
• Hill Descent Control
• Reversing camera
• MultiView camera
The
Renault Duster monthly installment
reflected for each model above is subject to *
Terms and Conditions
Renault Duster – Live Life!
The term joie de vivre (exuberant enjoyment of life) perfectly sums up the emotion you'll feel when you get behind the wheel of a 2021 Renault Duster. This sleek, yet powerful SUV is perfectly suited for those who crave an exciting outdoor life. In fact, the Duster is possibly the most masculine vehicle Renault has ever built, one that will allow you to unlock all of the adventures that living in a country like South Africa offers. Available in both 4×2 and 4×4 variants, the Renault Duster offers you the choice of both urban and off-road driving, as well as three distinct vehicle trim and accessory levels – the Expression, the Dynamique and the Prestige!
ABS, Emergency Brake Assist, Electronic Stability Control with Hill Start Assist and Driver and Passenger Airbags come as standard in the Duster, which means that your safety is never compromised. This will allow you to take on South African roads, or even the bushveld, in a way that will always add to your driving enjoyment.
Bold, sporty and built with rugged good looks, the 2021 Renault Duster is your key to unlocking adventure! With unmatched fuel efficiency and proven Renault reliability, why not live the good life and test drive a Duster at Group 1 Renault today!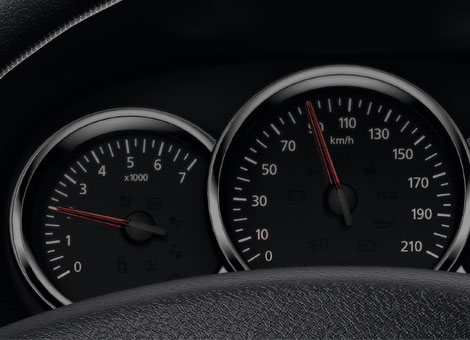 2021 Renault Duster Engine Specs
The powerful 1.5 dCi engine is a new generation power plant that benefits from a low inertia variable geometry turbo and reduced internal engine friction. The 1.6 16V Petrol engine on the other hand comes with a sequential multi-point injection system that ensures a smooth response whenever you require it. Take a look at the 2021 Renault Duster Engine Specs breakdown below to find out a bit more:
| ENGINE | FUEL | POWER | TORQUE | TRANSMISSION |
| --- | --- | --- | --- | --- |
| 1.6 16V 4×2 | Petrol | 84 kW | 156 Nm | 5-speed manual |
| 1.5 dCi 4×2 | Diesel | 66 kW | 210 Nm | 5-speed manual |
| 1.5 dCi EDC | Diesel | 80 kW | 250 Nm | EDC Auto 6-speed |
| 1.5 dCi 4×4 | Diesel | 80 kW | 260 Nm | 6-speed manual |
Discover how the 2021 Duster Engine Specs will allow you to enjoy life's little adventures when you download our 2021 Renault Duster Brochure!
Renault Duster Interior Accessories
With a large practical interior that brings class to the SUV category, it'll come as no surprise that this Renault easily seats 5 while still offering all of the latest comfort features. Added to this is an impressive 478 Litres (4X2 Duster) of boot space, which means that luggage, outdoor sports equipment or even a month's worth of groceries are an easy fit. Some of the interior accessory highlights include:
Six-function on-board computer
Black split leather steering wheel
Touchscreen Navigation with Bluetooth® (Dynamique Only)
Renault Duster Exterior Accessories
Just because a vehicle has rugged good looks does not mean that it cannot look sexy! With a full range of Renault Duster exterior accessories that came as standard, and even more that are optional, this SUV can be customised to suit anybody's lifestyle. Some of the most popular include:
4WD decals (4×4 Model Only)
Adventure pack
Touring pack
Protection pack
Want to know more about the Duster Trim and Accessory Packs? Then Contact Group 1 Renault today to find out more!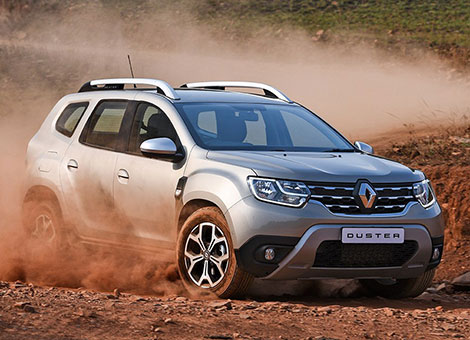 Renault Duster Review
With an elevated ride height, alloys, roof racks, spot lights and all the comfort and safety features one would expect in a vehicle of this class, you can rest assured that the Renault Duster ticks all of the right boxes. Available in two distinct Expression and Dynamique variants, and with a choice of 4×2 or 4×4 powertrains, there is almost nothing a Duster cannot handle when exposed to South African driving conditions. Features such as aircon, power steering, central locking, anti-lock braking system and a full complement of airbags come as standard, which means that when you drive a Duster you know that you're in for one hell of a good ride.
Although the Duster itself has a masculine look about it, don't be fooled into thinking this is just a man's car. Because truth be told, thanks to the various trim and accessories packages, this SUV can be personalised to suit any driving style or preferred vehicle look.
Duster Technology
A new look SUV is expected to include all of the latest vehicle technology and the Duster has that and then some. With a full house of safety and comfort tech as standard, the only question you should be asking here is not what does the Renault Duster have, but is there anything it doesn't?
Duster Styling
Plenty has already been said about the masculine looks of the Duster, but there is also a roguish charm about this vehicle that'll have the general SA driver going gaga over it. Its stylings will not look out of place in either the school parking lot or the African bushveld, with both actually being an option thanks to excellent on and off-road capabilities.
Duster Driving & Handling
With a choice of either a 1.6-litre petrol or 1.5 dCi turbo diesel, both with shifting torque and six-speed manual transmissions, there is very little that the Renault Duster cannot handle. Both engines do exactly what is expected of them, but with Renault's well-respected small-capacity turbo diesel expertise coming into play here we feel that the Diesel version of the Duster ever so slightly pips the Petrol version to the driving and handling post.
Overall Thoughts on the Duster
Simply put, the Renault Duster is a very good SUV that is exceptional value for money. You'll be hard pressed to find anything else in the local car market that offers everything the Duster does at the price it is available at. It is also exceptionally safe and economical, which in terms of South African driving conditions is a huge advantage over all of its rivals.
Renault Duster Specials
One of South Africa's top selling vehicles just got a whole lot more affordable thanks to our current Renault Duster Specials. For more information on these and other great Group 1 Renault Specials, please subscribe to our monthly newsletter or join us on our Group 1 Renault Facebook page.
Renault Duster Fuel Consumption*
An SUV that is economical to run is a rarity, but that is exactly what you'll get when you decide to purchase and experience the amazing Renault Duster Reliability. So much so, that even in 4×4 mode you'll be surprised at how frugal the 1.5dCi engine is:
| Consumption rates | Urban Cycle | Extra Urban Cycle |
| --- | --- | --- |
| 1.6 16V | 8.8 L/100 km* | 5.9 L/100 km* |
| 1.5 dCi 4×2 | 5.7 L/100 km* | 4.9 L/100 km* |
| 1.5 dCi EDC | 5.2 L/100 km* | 4.5 L/100 km* |
| 1.5 dCi 4×4 | 5.6 L/100 km* | 5.0 L/100 km* |
Renault Duster Colours
Atacama Orange
Duster Safety Features
Tough, safe and ready for anything
ABS + Emergency Brake Assist
Electronic Stability Control
Blind Spot Warning
Front driver and passenger airbag
ESP – 4×4 Model Only
Height-adjustable front seat belts
New-generation fixed front headrests
Third 3-point rear seat belt (inertia reel)
3 rear headrests (central curved head-rest)
Full size spare wheel
Duster Dimensions
The 2021 Renault Duster is BIG on space:
Wheelbase: 2,674 (4×2) & 2,676 (4×4)
Overall Length: 4,341
Overall Width: 1,804
Duster Colours
Experience the colours of life in a Renault Duster:
White
Platinum Silver*
Dune Beige*
Cosmos Blue*
Comet Grey*
Pearlescent Black*
Atacama Orange*
*Metallic
Frequently Asked Renault Duster Questions and Answers