2023 Duster




1.5 dCi Zen 4X2

From R 387,999

or R 5,499pm*

LOW Deposit | LOW Payment

Features:

• Driver & Front Passenger Airbags
• Front Side Airbags
• Rear Parking Sensors
• Media Nav Evo 7″ Touch Screen
• 16″ Alloy Wheels
• Speed Limiter/Cruise Control
• ESP, ASR, ABS + EBA
• Hill Start Assist (HSA)

2023 Duster




1.5 dCi Zen 4X2 EDC

From R 436,999

or R 6,199pm*

LOW Deposit | LOW Payment

Features:

• Same as 1.5 dCi Zen 4X2
• EDC Transmission

2023 Duster




1.5 dCi Zen 4X4

From R 450,999

or R 6,399pm*

LOW Deposit | LOW Payment

Features:

• Same as 1.5 dCi Zen 4X2
• 4×4 Drivetrain

2023 Duster




1.5 dCI Intens EDC 4X2

From R 450,999

or R 6,399pm*

LOW Deposit | LOW Payment

Features:

• Same as 1.5 dCi Zen 4X2 EDC
• Blind Spot Warning
• MultiView Camera
• Reversing Camera
• Hill Descent Control
• Hands-free Card
• 17″ Alloy Wheels

Renault Duster – Live Life!
The 2023 Renault Duster has hit the sweet spot of cars. It is a compact SUV, so not too big and clumsy, yet pretty roomy inside with space for five tall adults and a huge boot. It is a luxurious car, perfect for city driving, yet it is not precious. You won't hesitate to take your Duster off the beaten track to explore. It certainly has the ride height and torque to take on more than dirt roads. Furthermore, you have the choice of a 4×2 and 4×4, depending on your lifestyle, not to mention plenty of Renault Duster accessories.
There are four models of the Renault Duster to choose from, with three turbo-diesel options and two manual and one auto transmission in the mix. Whichever Renault Duster you choose, you will enjoy the high driving position, the broad, road-hugging stance of the car, and the smooth symphony of a powerful engine working through a great gearbox.
The base model Renault Duster Zen 4×2 starts with front and side airbags, ABS and ESC, hill start assist, rear parking camera and sensors and multiview camera.
The turbo-diesel engines give great performance and fantastic fuel efficiency and coupled with the overall pleasing experience of driving this car, makes the 2023 Renault Duster one of the most appealing car choices there is.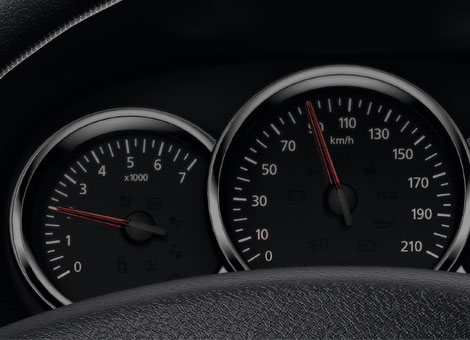 Renault Duster Engine Specs
The powerful 1.5 dCi engines are all direct common rail with multi-injection turbo diesels. Emission standards vary and this affects the power and torque. Take a look at the 2023 Renault Duster Engine Specs breakdown below to find out a bit more:
| ENGINE | FUEL | POWER | TORQUE | TRANSMISSION |
| --- | --- | --- | --- | --- |
| 1.5 dCi 4×2 | Diesel | 66kW @ 4,000rpm | 210Nm @ 1,750rpm | 5-speed manual |
| 1.5 dCi 4×2 EDC | Diesel | 80kW @ 4,000rpm | 250Nm @ 1,750rpm | 6-speed auto EDC |
| 1.5 dCi 4×4 | Diesel | 80kW @ 4,000rpm | 260Nm @ 1,750rpm | 6-speed manual |
Discover how the 2023 Duster Engine Specs will allow you to enjoy life's adventures – download our latest Renault Duster Brochure.
Renault Duster Accessories
The current generation Renault Duster will seat five in comfort with their luggage in the boot. The split rear seat/ fold-flat options give you tremendous versatility in what you can load. The removable boot cover and tall space will let you load tall, wide or both loads with ease.
The 478-litre boot in the 4×2 versions will fit a month's groceries or a long weekend's luggage with ease. The Duster is one of the few SUVs that can load a full-sized mountain bike in the back with only one wheel removed.
Interior Renault Duster accessories include:
Automatic air-conditioner
Electric windows all around
8" touch screen with radio, AUX and USB ports
Audio streaming
Bluetooth® telephone connectivity with steering column controls
ECO driving information
Exterior Renault Duster Accessories
Apart from its stellar and robust good looks – the latest Renault Duster also features some nifty exterior features, including:
Automatic LED daytime running lights
Fog Lamps
Grille with chrome trim
Body-coloured door handles
Black longitudinal roof bars
Of course, many people want to customise their ride, the Duster has you covered there as well – with aftermarket Renault Duster accessories like a bonnet guard, 4×4 accessories, body kit, key cover, towbar and seat covers.You can choose chrome styling bars all around, chrome side steps, side door protectors, mudguards, or a front protection bar with auxiliary headlamps. Other Renault Duster aftermarket accessories include the following:
Renault Duster bonnet guard
Renault Duster off-road accessories
Roof rack Renault Duster
Renault Duster body kit
Renault Duster key cover
Renault Duster towbar
Renault Duster seat covers
Renault Duster side steps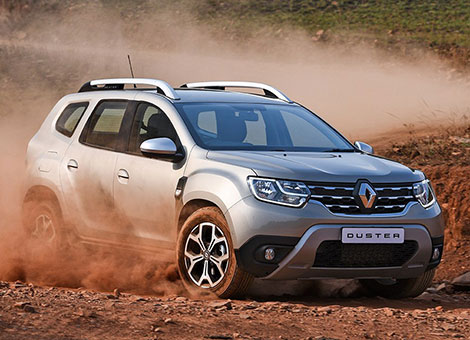 2023 Renault Duster Review
With an elevated ride height, alloys, roof racks, solid turbo-diesel power and a general feeling of a well-designed car – the Renault Duster ticks all of the right boxes. With a choice of trim levels or drivetrain options, it is not a question of if the Duster is right for you, but rather which one will suit you best. Plus, with the affordable Renault Duster towbar price, you can turn your car into a towing machine in no time.
The Duster is brilliant in the city and excellent on the dirt. It drives like a quality sedan but gives you the go-anywhere capability of an SUV. The overall feeling is solid dependability, crossed with a serious dash of flair.
Duster Technology
A new look SUV is expected to include all of the latest vehicle technology and the Duster has that and then some. With a full house of safety and comfort tech as standard, the only question you should be asking here is not what does the Renault Duster have, but is there anything it doesn't?
Duster Styling
The basic Duster shape has been pleased for more than a decade and one should not mess with a winning formula. That said, new taillights and updated detail all around keep the Renault Duster looking fresh and new.
Duster Driving And Handling
In town it is a car, on the farm, it is an SUV. Exceptionally smooth transmission and power steering, coupled with a well-thought-out driving position and adjustable seat and steering wheel make the Duster a pleasure to drive. You simply have to choose which drivetrain option will suit your lifestyle the best.
Overall Thoughts On The Duster
You see a lot of Dusters on our roads. Because Renault Duster gives you a quality SUV drive at a very good price. It is a pleasing car to own and retains its resale value. There is nothing mystical about the Duster. What you see is what you get, and what you get is plenty great.
Renault Duster Fuel Consumption*
An SUV that is economical to run is a rarity, but that is exactly what you'll get when you decide to purchase the amazing Renault Duster. So much so, that even in 4×4 mode you'll be surprised at how frugal the 1.5dCi engine is:
| Engine | Consumption rates* |
| --- | --- |
| 1.5 dCi 4×2 | 5.1 L/100 km |
| 1.5 dCi 4×2 EDC | 4.8 L/100 km |
| 1.5 dCi 4×4 | 5.2 L/100 km |
Renault Duster Colours
Atacama Orange
Duster Safety Features
Tough, safe and ready for anything – the Duster comes standard with the following safety features:
ABS + Emergency Brake Assist
Electronic Stability Control
Front driver and passenger airbag
Side airbags
Duster Dimensions
The Renault Duster is BIG on space, thanks to these impressive dimensions:
Wheelbase (4×2): 2,674
Wheelbase (4×4): 2,676
Overall Length: 4,341
Overall Width: 1,804
Boot volume (4×2): 478-litres
Boot volume (4×4): 414-litres
Duster Colours
Choose the colour of your Renault Duster from the colour options below:
White
Platinum Silver
Brown Vision
Cosmos Blue
Fusion Red
Pearlescent Black
Arizona Orange
Frequently Asked Renault Duster Questions and Answers