From R 312,999

or R 4,999pm*

NO Deposit + R36,000 CASHBACK

Features:

• EASY LINK 7″ Multimedia System
• Apple CarPlay™ and Android Auto™ compatible
• 4 Airbags, Including Side Airbags
• Emergency Brake Assist (EBA)
• Electronic Stability Control (ESC with ABS)
• Hill Start Assist (HSA)
• 16″ Amicitia Flex wheels
• ECO mode

From R 312,999

or R 4,399pm*

LOW Deposit + R36,000 CASHBACK

Features:

• EASY LINK 7″ Multimedia System
• Apple CarPlay™ and Android Auto™ compatible
• 4 Airbags, Including Side Airbags
• Emergency Brake Assist (EBA)
• Electronic Stability Control (ESC with ABS)
• Hill Start Assist (HSA)
• 16″ Amicitia Flex wheels
• ECO mode

From R 327,999

or R 5,199pm*

Features:

• 6 Airbags, Including Side Curtain Airbags
• Navigation
• Front fog lights
• Comfort Front Seats

From R 367,999

or R 5,799pm*

Features:

• PureVision Peformance LED headlights
• High Beam Assist
• Electric Handbrake with Autohold Function
• Renault Card for Hands-free Access and Ignition
• Smartphone Wireless Charging
• 16″ Philia Stella Alloy Wheels
• Direction Management Incorporated Headlights
Renault Clio – Pure Driving Bliss
The new Renault Clio is, simply put, an exceptional car! Not only does it look the part but it is loaded with technology while offering a comfortable and fun ride. When getting behind the wheel of the new Renault Clio V, you will be the envy of passers-by thanks to the beautifully streamlined contours resulting in an almost seductive presence. The Clio V is a remarkable car ideally suited for young professionals and small families looking to add some zest to their driving experience in one of the 3 variants; the LIFE, ZEN and INTENSE.
The latest Renault Clio V does not look all that different from the previous one since it was already such a highly sought after supermini. They've added a larger front grille and C-shaped daytime running lights to bring it back in line with the rest of the Renault range. This new version is also more comfortable, better-equipped and more efficient which means it offers great value for money.
2023 Renault Clio V Engine Specs
The 2023 Renault Clio V is a fun, accomplished car to drive with a perfect balance between comfort, handling and performance thanks to a brand new 1.0-litre TCe 100 turbocharged three-cylinder petrol engine. The Clio delivers 74kW and 160 Nm of torque which is an improvement of 8kW and 20 Nm compared to the previous generation while fuel economy is rated at 5.7 litres/100 km in a combined cycle.
For added convenience, below is a summary of the different trim levels, each sporting the spritely 1.0-litre turbo engine. If you would like a more detailed breakdown of the 2023 Clio Engine Specs, simply download our 2023 Renault V Clio Brochure!
ENGINE
POWER
TORQUE
TRANSMISSION
1.0L TURBO LIFE
74 kW
160 Nm
5-speed manual
1.0L TURBO ZEN
74 kW
160 Nm
5-speed manual
1.0L TURBO INTENS
74 kW
160 Nm
5-speed manual
Renault Clio Accessories
Renault Clio accesories are not for everybody, but those who want them, want the best. The Renault Clio is a driver's car, and you can make it reflect your own personality and style with high-quality, perfectly crafted Renault aftermarket accessories, which include:
Underbody courtesy lighting. Don't get lost again in a poorly lit carpark! When you approach the car or by merely pushing a button on the remote, your CLIO lights up automatically.
Armrest. Improves your driving comfort and is also an additional storage area.
Inductive smartphone charger built into the interior trim of the cockpit, for wireless charging of your smartphone.
Modular boot protection. Non-slip and waterproof, it is essential for protecting the boot of your vehicle and transporting bulky and dirty items!
Shark aerial. Add a touch of sporty elegance to your CLIO with this aerial, perfectly integrated into the shape.
Boot sill. Made from brushed aluminium with embossed lettering. Protects your car's loading sill whilst adding a touch of style.
Door sills. CLIO branded, provides stylish protection to vehicle access.
Swan neck towbar for the Renault Clio. Ball easily removable with tools. Designed for intensive use. Maintains the aesthetics of the vehicle once the ball is removed.
There are several suppliers of high-quality third-party Renault Accessories for your Clio. These accessories include:
Renault Clio gear knob
Renault Clio seat covers
Towbar for Renault Clio
Renault Clio mud flaps
Roof rack for Renault Clio
Renault Clio wheel covers
Contact your Group1 Renault parts and accessories department to see what is available as genuine aftermarket Renault Clio accessories, including Renualt Clio 4 accessories or accessories for older Clio models.
Renault Clio V Interior Accessories
Renault has given the new model a complete interior overhaul with high-quality materials and finishes. It offers a high-tech driver-orientated cockpit with snugly seats and Multi-Sense customisable ambient lighting. A beautifully designed dashboard is accompanied by an easily accessible centre panel, digital trimmings and a 7-litre cubbyhole are some of the many new features in the Renault Clio V. What's even more impressive is the fact that Renault updated and modernised the interior without charging a premium. Here are a few of the standouts:
Cutting-edge infotainment system integrated with Renault CONNECT
High quality 9.3-inch touchscreen with Apple CarPlay and Android Auto *
Bluetooth, USB, AUX compatible with R&Go application
6 speakers *
One-touch front electric windows
Glossy black trim on the steering wheel and gear lever surround *
Moulded black front door armrests
Navigation system
Renault Clio Exterior Accessories
As you'd expect from a modern-day car, the new Renault Clio V checks all the boxes when it comes to design and exterior features. The LIFE, ZEN and INTENS variants are all right up there with the rest but even better if you consider everything you get for the price. While model-dependent, some of the standard exterior features already make the Clio V stand out but you can make an even bigger statement with add-ons such as:
Underbody courtesy lighting
Armrests
Inductive smartphone charger
Non-slip and waterproof Modular boot protection
Sporty Shark aerial
Door sills
Towbar
Want to find out more about how to personalise your 2023 Renault Clio V? Contact our experts at Group1 Renault today!
Renault Clio Technology
Since the early days, Renault believed in adding the latest technologies to their vehicles and the new 2023 Renault Clio is no different. Its safety and comfort features are of the highest quality while using all of its modern engine technology to ensure the best possible economy and reliability. Some of the technology includes cruise control and speed limiter, Hill Start Assist (HSA), Electric handbrake with autohold function*, Direction management incorporated into front headlights*, Front & Rear parking sensors*.
* Model dependent. Please contact Group1 Renault for more information.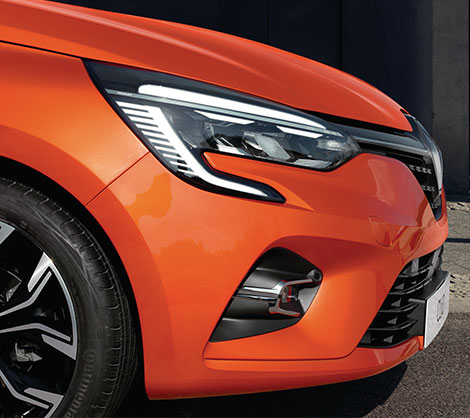 Renault Clio Review
The Renault Clio is now in its 5th generation and is the embodiment of change in the modern automotive world. The French automaker has always been a leader in designing stylish vehicles for a great price particularly for the growing market in South Africa. Its smooth and attractive contours, bold stance and long list of technology features make it stand out wherever you are while delivering a satisfying driving experience.
Available in three trim levels – the LIFE, ZEN and INTENS – all models may seem varied but they remain balanced. Unlike many competitors, the new Renault Clio V offers plenty of standard features one would expect on a more expensive, luxury car. Also, all 2023 Renault Clio models have exceptionally good safety ratings having achieved five stars in the Euro NCAP crash tests.
Renault Clio Specials
At Group1 Renault in Stellenbosch and Gleneagles, we strive to offer you the best vehicles at the best prices. To find out more, please have a look at our current Renault Clio Specials. Alternatively, you can also sign up to our monthly newsletter or follow us on Facebook to receive regular updates on all of our Renault Specials and Deals.
Renault Clio Fuel Consumption*
With a good combined CO2 Emissions rating of 132g/km, the much-loved Renault Clio is good for your budget and the environment. Thanks to some clever automotive engineering and continuous improvement, the Renault Clio Fuel Consumption Figures are also quite impressive which we've highlighted below:
| Urban Cycle | Extra Urban Cycle | Combined Cycle |
| --- | --- | --- |
| 7.7 L/100 km* | 4.6 L/100 km* | 5.7 L/100 km* |
Clio Safety Features
The new Renault Clio meets and exceeds all safety expectations as the automaker continues to focus on providing plenty of protection as standard features. Here are some of the safety features on the new Clio V:
4 – 6 airbags (model-dependent)
Isofix (i-Size), front passenger + rear side seats
Seat belt warning with presence detection
Front headrests with anti-whiplash function
Emergency Brake Assist (EBA)
Electronic Stability Control (ESC with ABS)
Hill Start Assist (HSA)
Front & Rear parking sensors (INTENS with option pack)
Rear parking camera (INTENS with option pack)
Clio Dimensions
The fifth-generation Renault Clio is slightly smaller and more compact but thanks to intuitive design, it actually offers more space. Don't let the sporty looks fool you as it still offers plenty of room with the follow dimensions:
Wheelbase: 2,583mm
Overall Length: 4,050mm
Overall Width: 1,798mm
Overall Height: 1,440mm
Clio Colours
The Renault Chrome Zone offers you the following Clio colours:
Glacier White*
Mercury**
Titanium Grey*
Urban Grey*
Flame Red**
Diamond Black**
* Clearcoat opaque
** Metallic paint
Overall Thoughts on the Renault Clio V
An exciting and comfortable driving experience coupled with style, practicality and incredible safety undoubtedly makes the new Clio a hot hatch in its own right. It's more aerodynamic and lighter than the previous generation which enables the new 1.0-litre turbo petrol engine to perfectly combine performance, comfort and fuel economy in one package. If you're looking for a sporty, well-balanced and affordable hatchback, the latest Renault Clio should be at the top of your list especially with the standard features, safety and affordability!
Frequently Asked Renault Clio Questions and Answers