2021 Renault

NEW Clio
Coming Soon!
From R 260,900

or R 3,199pm*

Low Deposit & Low Installment

Features:

• On-board Computer
• R&GO App with smartphone cradle
• Renault Bass Reflex®
• 4 Airbags
• ABS, EBA, ESC and ASR
• Cruise Control
• Hill Start Assist
• ECOmode

From R 278,900

or R 3,399pm*

Low Deposit & Low Installment

Features:

• Body-coloured wing mirror shells
• Passion 16″ alloy wheel rims
• ECO Driving Mode
• Media Nav® multimedia system

From R 296,900

or R 3,699pm*

Low Deposit & Low Installment

Features:

• Previous Features PLUS
• Drenalic 17″ alloy wheel rims
• Dark Carbon padded fabric upholstery
• Fixed glass roof

From R 320,900

or R 3,899pm*

Low Deposit & Low Installment

Features:

• Same as Expression
• 88KW Turbo EDC Engine
• EDC Automatic Double Clutch
The
Renault Clio monthly installment
reflected for each model above is subject to *
Terms and Conditions
Renault Clio – Driving Desire!
The new 2021 Renault Clio is an object of desire and envy that will add a bit of "oh là là" to the life of any young or young at heart South African driver. Designed with sensuous curves and expressive features, the Clio is truly seduction on wheels thanks to its 5 different variants, the Authentique, Expression, Expression EDC, Dynamique and GT-Line. Based on the DeZir concept car presented at the Paris Motor Show in October 2010, this next generation New Renault Vehicle embodies all that is young, sexy and French; without forgoing the practicalities expected of an everyday car. To top it all, the Clio is also packed full of 21st century features that include a multimedia system, Bass Reflex Sound System®, Hands-Free Set, Hill Start Assist, Eco Mode Driving, Cruise Control (with Speed Limiter) and much, much more!
Sporty, modern and full of passion, the 2021 Clio is the perfect choice for the now generation! Test drive one today at Group 1 Renault and drive your desire…
2021 Renault Clio Engine Specs
Driving pleasure and the perfectly-practical combine to create a sporty engine that offers excellent fuel economy, efficient pick-up and optimum acceleration. This low inertia turbocharged engine puts out 66kW of power and comes with an overboost feature as standard to give you power as and when you need it. This can push the always impressive Clio Reliability to a peak engine power output up by 4kW to 70kW in times of emergency for up to 40 seconds at a time. For those drivers looking for something a little more vroom, there is the 88kW EDC (Efficient Dual Clutch) Gearbox. This engine combines the best of both worlds and offers power and controlled fuel consumption in one amazing engine package.
What to know more? For your convenience we have made a simple comparison of the 2021 Clio Engine Specs below:
| | | | |
| --- | --- | --- | --- |
| ENGINE | POWER | TORQUE | TRANSMISSION |
| ENERGY TCe 90 | 66 kW / 70kW* | 135 Nm / 150 Nm* | 5-speed manual |
| Turbo EDC | 88kW | 190 Nm | EDC Automatic |
* With Overboost
If you would like a more detailed breakdown of the 2021 Clio Engine Specs, then please download our 2021 Renault Clio Brochure!
Renault Clio Interior Accessories
A sensual dashboard design, accessible centre panel, digital trimmings and a 7-litre glovebox are just some of the many features found in the Clio. But that's not all, as the interior also includes:
The Renault Bass Reflex® Sound System
MEDIA NAV® Multimedia System (not in AUTHENTIQUE model)
Chrome Front & Rear Door Controls
Renault Clio Exterior Accessories
Accessorise your 2021 Renault Clio with a Carbon Look Titanium sport kit designed specifically for all Clio variants – the Authentique, Expression, Dynamique and GT-Line. Or simply go with the standard features that include:
Body-Coloured Front & Rear Bumpers
Concealed Exterior Door Handles
Body-Coloured Mirror Shells (not in AUTHENTIQUE model)
Metallic Paint Option
Ready to find out more about how you can personalise your 2021 Clio? Then Contact Group 1 Renault today!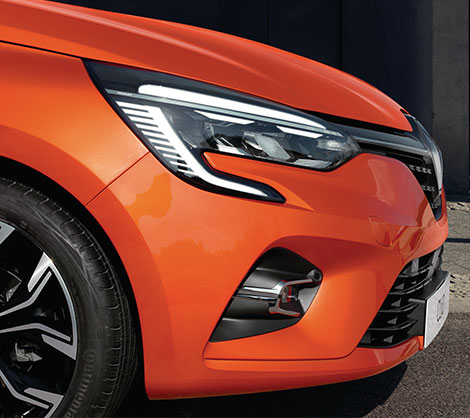 Renault Clio Review
Now in its 4th generation, the Renault Clio has always been one of the most stylish vehicles for its price in South Africa. Its attractive, sensuous lines ensure that it stands out both on the road or in the parking lot, and it is also a lot of fun to drive. Available in 4 trim levels, the Authentique, Expression, Dynamique and GT-Line, all versions offer varied (but balanced) standard specifications at extremely competitive prices. Additionally, all version of the Clio have an excellent safety rating, with the car having achieved five stars in its Euro NCAP crash tests. Safety highlights in the Clio include airbags and ISOFIX child-seat mounts on the outer rear seats.
Looks wise, the new Clio is bold, sexy and undeniable French! Its body has been perfectly sculpted to appear even sportier than previous Clio generations, which adds to the already considerable charm of this amazing looking vehicle.
Clio Technology
Renault has never been a company that shies away from the latest in vehicle technology, and the Clio is a perfect example of this. Its safety and comfort features are of the highest quality and the Clio uses all of its modern engine technology to ensure an economical and reliable drive.
Clio Styling
The new Clio 4 has French design stylings that are fresh, interesting and sexy too boot! With its low roof line, sculpted tail and shallow side glass, the latest generation of Renault Clio is a lovable car that will turn heads without emptying your pockets.
Clio Driving & Handling
Designed for economy but still nippy enough for urban and suburban driving, the Clio has a driving and handling style that is as sporty as the vehicle itself looks. You can rest assured that any 1 of the 5 versions (Authentique, Expression, Expression EDC, Dynamique and GT-Line) of the Clio does what is does exceptionally well and with an absolute air of French flair!
Overall Thoughts on the Clio
This fourth generation of the Clio is without a doubt one of Renault's best-known and highest-selling nameplates. This is not surprising, because when you add the standard features and affordability of the Clio to the stylish good looks and 5 star Euro NCAP crash test rating, you get an exceptional vehicle that everybody should be proud to drive!
Renault Clio Specials
We at Group 1 Renault in Stellenbosch strive to offer you the best vehicles at the best prices. To find out more, please take a look at our current Renault Clio Specials. Alternatively, if you would like regular updates on all of our Renault Specials and Deals, then please subscribe to our monthly newsletter or follow us on Facebook.
Renault Clio Fuel Consumption*
With a CO2 Emissions rate of 105g/km for the ENERGY TCe 90 engines respectively, the much talked about Renault Clio Reliability is as good for the environment as it is for your pocket. This is all thanks to some amazing automotive engineering which has even culminated in the introduction of the EDC (Efficient Dual Clutch) Engine which has a CO2 Mixed Cycle Emissions Level of 120g/km. The Renault Clio Fuel Consumption Figures are also impressive, and we have included them all below so that you can see just how fuel frugal all Clio engine types are:
| Consumption rates | Urban Cycle | Extra Urban Cycle |
| --- | --- | --- |
| ENERGY TCe 90 | 4.7 L/100 km* | 3.9 L/KM* |
| Turbo EDC | 6.6 L/100 km* | 4.4 L/100 km* |
Renault Clio Colours
Metallic Black
Clio Safety Features
Feel safe and look good thanks to the standard safety features of the Renault Clio:
ABS + Emergency Brake Assist (EBA)
Speed limiter-Cruise control
Hill Start Assist (HSA)
Electronic Stability Control (ESC)
Anti-Slip Regulation (ASR)
Seat belt reminder (SBR)
Driver, Passenger, Front and Side Airbags
Isofix 3-Point Attachment Systems
Anti-submarining system (Fix4sure)
Clio Dimensions
Sporty looks do not mean that you have to sacrifice on space when you drive a Renault Clio:
Wheelbase: 2,589mm
Overall Length: 4,062mm
Overall Width: 1,732mm
Clio Colours
The Renault Chrome Zone offers you the following Clio colours:
Glacier White
French Blue*
Lightning Yellow*
Mercury Silver
Passion Red**
Star Black
Oyster Grey*
Fiery Brown*
Malta Blue (GT-Line Only)
* Not available on GT-Line models
** Metallic paint with special clearcoat
Frequently Asked Renault Clio Questions and Answers