The Renault Captur Has Been Discontinued
The Renault Captur was the first of the Renault family to combine the ruggedness of an SUV with the practical space of an MPV. The Captur was built to take people to work, to school, to the shops or on holiday. With a choice of two petrol and one diesel engine, and with loads of safety features as standard, the Captur set a very high bar in its segment. The Renault Captur range has, like many good things, come to an end in South Africa, but you can still pick up a very good late-model used Renault Captur. Alternatively, why not look at the new Renault Kiger or the segment-leading Renault Duster?
Captur – Experience The Passion!
Remember that feeling of falling in love for the first time? Now you get to experience it every day when you own the all-new passion-fuelled 2015 Renault Captur! Built to embody the French love of beauty and Renault's new approach to vehicle design, the Captur offers you the personality and ruggedness of an SUV, mixed with the functionality and space of an MPV and the sheer driving pleasure offered by a dynamic hatchback. From the urban jungle to the open South African road, the Captur is ready to take you places and turn heads in the process.
Built to help you seek out new vistas and add to your desire for the perfect driving experience, the Renault Captur has everything you need to help you take on almost anything SA roads can throw at you. This includes the Renault MediaNav® touchscreen multimedia tablet which adds to your driving pleasure, the F1® inspired turbo engines to give you power where (and when) you need it most, Hill Start Assist to help you handle any vehicle pull away, and a hands-free mobile talk system for added peace of mind.
Efficient, powerful and beautiful! Take a Renault Captur for a test drive and experience the passion for yourself…
2022 Renault Captur Engine Specs
Lively response, sharp acceleration and legendary European fuel efficiency all combine to create an exciting driving experience no matter which Renault Captur Engine Specs you opt for. In fact, the F1® technology behind our high-energy Captur engines ensure that you always get to enjoy remarkably moderate fuel consumption and CO2 emissions.
The 66KW Turbo Engine includes an overboost function which pushes the maximum torque up to 150Nm when needed, while the 1.2l 4 cylinder 88KW Turbo Engine is controlled by a 6-speed EDC (Efficient Dual Clutch) automatic gearbox. Then there is the exceptional (and not to mention economical) 1.5 dCi 4 Cylinder Turbo Diesel, which is one of the best engines in its class thanks to a massive 220 NM of torque. Take a look at our Renault Captur Engine Specs Breakdown below for more information:
| | | | |
| --- | --- | --- | --- |
| ENGINE | POWER | TORQUE | TRANSMISSION |
| 12 Valve Turbo | 66 KW | 150 Nm* | 5-speed manual |
| 16 Valve Turbo EDC | 88 KW | 190 Nm | 6-speed automatic |
| 1.5 dCi | 66kW | 220 Nm | 5-Speed Manual |
* With Overboost
Would you like to know more about the new Renault Captur Reliability and take a look at a detailed engine specs breakdown? Then why not download our 2022 Renault Captur brochure.
Renault Captur Accessories
Despite the Captur being discontinued, it remains a popular car for many motoring enthusiasts. Not only is it a good-looking car but it also has muscular, yet refined styling attributes that set it apart from the rest. If you want your Captur to stand out even more while adding a level of practicality, there are several aftermarket Renault Captur accessories to choose from including:
Renault Captur side steps
Renault Captur bootsill
Renault Captur Quickfix aluminium roof bars
Renault Captur bicycle rack
Renault Captur towbar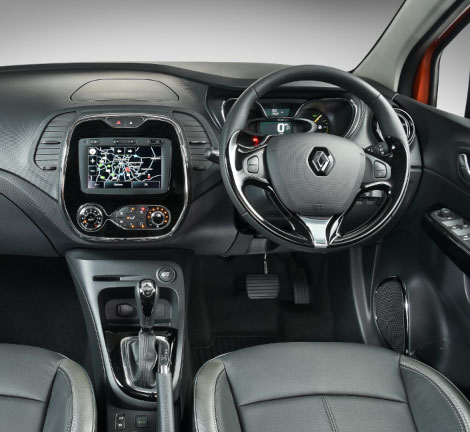 Renault Captur Interior Accessories
There are a range of Renault Captur Interior Accessory options available. These include exclusive Renault vehicle functionality such as:
A MediaNav® Touchscreen Multimedia Tablet
Chrome Pack
Removable "Zip Collection" Seat Covers
Leather Steering Wheel & Gearknob
Renault Captur Exterior Accessories
Thanks to the Renault Chromo Zone and Creative Workshop you can choose your vehicle colours and even customise your Captur with:
Bi-Tone Roof and Mirror Shells
17″ Alloy Wheel Rims
Chrome Light Surrounds
A Chrome Strip on Tailgate
Contact Group1 Renault and add even more exclusive Renault Captur Accessories to your vehicle.
Renault Captur Review
Launched internationally in 2013, the Renault Captur has lived up to its name and helped capture a lucrative share of the crossover vehicle market. This is due to its punchy good looks and fun driving style as well as to its 5 Star EuroNCAP safety rating. In fact, the Renault Captur is exactly what you would expect from a company such as Renault which has used its French design sensibilities to successfully combine 4×4 stylings and hatchback running costs.
Based on the established and reliable 2-wheel drive Clio Hatchback platform, but with a raised driving position and a more family-friendly interior, the Renault Captur is easy to drive and offers a good forward view and a choice of fuel-efficient engines that are most certainly up to the job of dealing with South African driving conditions.
Captur Technology
The interior technology in the Captur includes the option of a touchscreen control system that is one of the best in its class. This MediaNav® Touchscreen Multimedia Tablet is easy to use and has a menu system that is logically laid out for ease of use while driving.
Captur Styling
If you would like to own a car that pretty much sums up the French love of all things sexy, then this is probably the crossover vehicle for you. From the optional two-tone exterior styling to the coloured zippers and bright plastic highlights in the cabin, the Renault Captur is a designer's dream come to life.
Captur Driving & Handling
Fun as well as easy to drive, the Captur offers you an effortless urban driving experience as well as the ability to handle long distances in a comfortable manner. In other words, it is perfect for the varied needs of almost all South African drivers! It is also one of the safest vehicles on the road, which means that its 5 Star EuroNCAP safety rating should be more than enough to set your mind at ease and allow you to navigate local traffic in a confident manner.
Overall Thoughts on the Captur
The Renault Captur is extremely fun to drive and offers some of the best fuel consumption figures in its class. When you add its impressive safety rating to the mix this new Renault could possibly be the game-changing vehicle that the crossover segment of the South African car market has been waiting for.
Renault Captur Specials
If you are looking to purchase a Renault Captur from Group1, then we suggest that you take a look at the Renault Captur Specials that are currently available on this website. Alternatively you can also subscribe to our Group1 Renault Newsletter or follow us on Facebook if you wish to receive all of the latest Group1 Specials and Automotive Deals.
Renault Captur Fuel Consumption*
With a fuel tank capacity of 45 litres on both the 66KW and the 88KW models and a CO2 Emissions Rate of 113g/km and 125g/km respectively, you'll be ready to take on both fuel increases and tougher emissions laws. To add to this there is also now a 1.5dCi engine option that is now available in South Africa, and this fuel frugal engine is exceptional no matter which way you look at it!
| Consumption rates | Urban Cycle | Extra Urban Cycle |
| --- | --- | --- |
| 66KW Turbo Captur | 6.0 L/100 km* | 4.3 L/100KM* |
| 88KW Turbo Captur EDC | 6.6 L/100 km* | 4.7 L/KM* |
| 1.5 dCi | 4.2 L/100 km* | 3.4 L/100 km* |
Renault Captur Colours
Passion Red (Bi-Tone)
Captur Safety Features
Our number 1 priority in the Capture is safety for all! This is why we offer the following as standard:
Anti-lock Braking System (ABS)
Electronic Brake Distribution (EBD)
Emergency Brake Assist (EBA)
Electronic Stability Control (ESC)
Driver & Passenger Front Airbags
Driver & Front Passenger Side Airbags
Automatic Dipped Headlights
Automatic Windscreen Wipers
Driver Seat Belt Reminder (SBR)
Side Indicators
Captur Dimensions
There is no compromise on space with the 2022 Renault Captur:
Wheelbase: 2,506mm
Overall Length: 4,122mm
Overall Width: 1,778mm (excluding mirrors)
Captur Colours
The Captur is available in the following colours:
Ivory White*
Oyster Gray*
Diamond Black*
Mercury Silver*
Pacific Blue*
Sunset Orange*
Ivory White (Diamond Black)**
Oyster Gray (Diamond Black)**
Mercury Silver (Diamond Black)**
Pacific Blue (Diamond Black or Ivory White)**
Sunset Orange (Diamond Black or Ivory White)**
Diamond Black with Sunset Orange Roof***
*Expression, **Dynamique (Bi-Tone Mixes), ***Sunset LE
Frequently Asked Renault Captur Questions and Answers